About WOD (World Origami Days)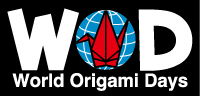 In September 2005, OrigamiUSA suggested to make October 24th as the World Origami Day, since that date is the birthday of Lillian Oppenheimer (1898-1992), one of the founders of the British Origami Society and OrigamiUSA. Makoto Yamaguchi then pointed out that in Japan November 11th had already been established as the Origami Day. World-wide celebration of origami by spreading the joy of paperfolding. So, the period from 10/24 to 11/11 has become the period of World Origami Days or WOD.
Since then, OrigamiUSA has been engaged to spread the joy of origami in the whole world by promoting origami events and activities. In 2011, OrigamiUSA partnered with JOAS in order to promote WOD.
2022 OrigamiUSA and Japan Origami Academic Society Joint WOD Event


Although many face-to-face origami events have been canceled due to the pandemic, you can still enjoy World Origami Days (WOD). OrigamiUSA's Origami Connect team and the PCOC team have organized an online origami class during 19 days from October 24, 2022 to he November 11 (US time). In addition, this year's event was held jointly with the Japan Origami Academic Society, and each day featured various origami themes (tessellation, units, modulars, etc.). Popular creators such as Jun Maekawa, Fumiaki Kawahata, Miyuki Kawamura, Akiko Yamanashi and Shigeru Mitsuda from the Japan Origami Academic Society, Jeremy Shafer, Beth Johnson, Aldos Marcell, Ekaterina Lukasheva and Linda Mihara from OrigamiUSA will participate.
This event will also be a fundraiser for the 2023 Pacific Coast OrigamiUSA Conference (PCOC).
We encourage everyone to consider participating in the WOD event.
Dates: October 24th to November 11th (WOD period)
2022 OrigamiUSA WOD Official Website: https://origamiusa.org/wod2022
Agenda:https://origamiusa.org/wod2022-schedule
October 24th (US time) : WOD Opening, Wendy Zeichner, Makoto Yamaguchi (video)
October 25-November 10 (US time) : WOD classes
November 11th (US time) : WOD Closing
Participation fee: $40 ($5 discount for OrigamiUSA members)
WOD T-shirt: https://origamiusa.org/wod2022-apparel-gold-mine
Exhibition (Online)
Open at October 24th
Fold any models, download the backdrop sheet at below, take photos of the models on the sheets, and upload them on Facebook, Twitter(#MyWOD), your blog, virtual exhibition,and so forth.
Anyone and any group can participate.
Let's form a circle of origami on the Web.
Web exhibition on Rabbit
Submit your photos of origami Rabbit during the period of WOD (from October 24 through November 11), and they will be exhibited on our virtual exhibition.
Archives of Online Exhibition