The 6OSME team thank all participants and sponsors, without whom the Meeting could not be even possible.
We look forward to meeting you at 7OSME!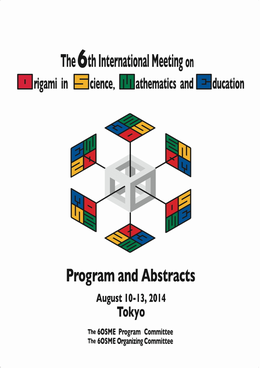 6OSME Program and Abstracts (PDF 84MB)
6OSME
The 6th International Meeting on Origami in Science, Mathematics and Education (6OSME) will be held at the University of Tokyo, from Aug. 10 to Aug. 13. The 6OSME aims at providing a platform for researchers, educators, artists, and the community to share and discuss researches on Origami in science, mathematics, education, technology and art.
Invitation from the President and the Organization Committee
We are pleased to open invitations to the 6th International Meeting of Origami Science, Mathematics and Education (6OSME), which will be held in Tokyo, Japan, from August 10-13, 2014. We are excited to host another advanced yet intimate meeting in a global center for origami, both traditional and contemporary. The venue for the event will be the Yayoi Auditorium at The University of Tokyo, where you can enjoy the comfortable atmosphere in and around its premises consisting of a beautiful wooden building and a modern geometric structure. Following the meeting, the 20th Anniversary Origami Convention of the Japan Origami Academic Society (JOAS) will be held at Toyo University, close to the meeting venue, from August 15-17, which means you can appreciate top-notch origami exhibitions at both 6OSME and the JOAS Convention. Of course, we will feature a wide range of scientific programs at 6OSME, in addition to post-meeting field trips.

Koryo Miura, President, 6OSME
Ichiro Hagiwara, Chair, 6OSME organizing committee

Circular
6osme_1st_circular_rev03.pdf (Oct. 30, 2013 updated) (Japanese version)
Important Dates
August 1, 2013
Opening of Pre-Registration
November 1, 2013
November 21, 2013
Deadline for One-page Abstracts
January 31, 2014
February 24, 2014
Notification of Abstract Acceptance
February 1, 2014 -
June 9, 2014
June 30, 2014

Early Registration (discount fee)
May 31, 2014
Deadline for Final Abstracts
June 10, 2014
Registration (regular fee)
July 31, 2014
Deadline for draft manuscripts of no more than 10 pages (required for those wishing to have papers considered for publication in Origami^6).
August 10-13, 2014
6OSME
Sponsors